Introduction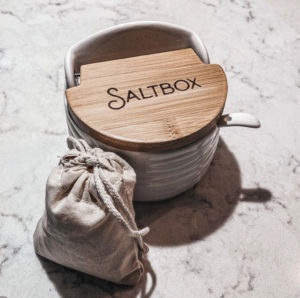 Just like how I want to provide you with a quick and easy mortgage solution, the Saltbox is my way of thanking you for trusting me with your mortgage needs. After all, having a Saltbox in your kitchen allows you to customize meals and access just the right pinch of salt super quick and easy! Albeit, if you're not a big salt person, don't fret, put this little jar in your washroom and enjoy the health benefits in the bath. I'd love for you to share your creations on social, tag my instagram page so I know what's up 😉 

Hawaiian-Style Black Lava Salt

Made with activated charcoal and 100%  pure sea salt from the Pacific Ocean, the activated charcoal not only has deep hues but is also a natural detoxifier with a lower sodium count and antioxidant properties.  The rich black colour and crunchy grains add a dramatic finish to any meal and is guaranteed to be a natural conversation starter at your next dinner party. Hawaiian-Style Black Lava Salt pairs well with seafood, meat and fruits! The black lava salt doesn't change the taste of foods but definitely brings a new depth and more flavour to your meals without overpowering the dish. 

Looking for a couple ideas to add a little smokey, yet slightly bitter taste to a dish: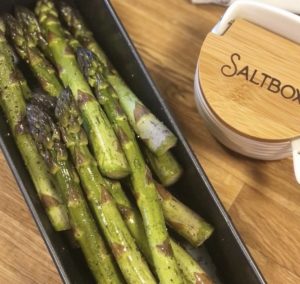 Sprinkle a little black salt over root veggies or some Brussel Sprouts

Sprinkle a little on crisp roasted potatoes

Air frying chicken wings? Toss a pinch on top! 
Sprinkle a little on your next steak or a meaty fish like Tuna or Halibut

Avocado Toast fan? Finish it off with a sprinkle of black lava salt for a delicious smokey crunch!

Bon Appétit!
Hawaiian-Style Black Lava Salt for Bathing

Looking to relax in the bath, add ¼ cup of black lava salt to your bath water. Additionally, use the black lava salt as a body scrub to unclog pores, keep skin oils at bay, improve blood circulation and to enjoy a healthy glow! Be sure to google fun ways to use your lava salt in scrubs and in the bath!

Pink Himalayan Salt
This beautiful rose coloured Himalayan Pink Salt is mined from ancient pink salt deposits below the Himalayan mountains. Himalayan Pink Salt is an unrefined, raw salt, containing no additives or chemicals. It remains in the same pure form today as when it was formed over two hundred and fifty million years ago.

Looking for a couple ideas to add a little pink salt to your next dish?

Simply put, pink salt is less refined than table salt and can be used in all the same ways. Use it as you would in baking, cooking, and to finish off a meal. Being less refined means it's better for you, giving you nutrients like zinc, iron and calcium.

Sprinkle on top of green beans coated in butter, nothing like a delicious vegetable dish!

Sprinkle in your soups to give them a little extra zing

Use pink salt the next time you bake cookies or a cake

You can even sprinkle a little on your popcorn


Pink Himalayan Salt for Bathing

Add 1 cup of pink salt to your bath and soak. Himalayan Pink Salt has many benefits in the bath such as its anti-inflammatory, antibacterial and antiseptic properties, making it a great cleanser for your skin. Just like epsom salts, Pink Himalayan salt can also soothe muscle fatigue and improve skin appearance to name a few beneficial properties for these little ancient crystals.
If you stumbled upon this blog and don't yet have a saltbox, I give them to my clients. Have a mortgage need? Apply Today

Yours Truly,

Amanda
amanda@saltboxmortgages.com
519.497.9256